The Daily Planet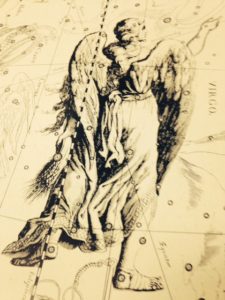 Click here to listen to Kacey on the Radio 02-22-15 Interview Demitra Vassiliadis about  Abraham Lincoln and the Age of Aquarius WHUD-Mixdown
The Sun enters sacred devotional Virgo at 12:38 PM EDT on August 22nd, ushering in four weeks of environmental awareness. Virgo is the Goddess of the earth who reminds us that our health is entirely dependent on the health of our Mother Planet. This month strengthen your bonds to nature. Buy organic. Eliminate chemicals and pesticides from your life. Virgo reminds us that cleanliness is next to goddessliness. It's a wonderful month to get organized and hone your skills. The Sun will be traveling through Virgo till the fall equinox which occurs on September 22nd. Mercury, Virgo's ruling planet goes retrograde on August 30th. beginning a time of reflection and reconsideration of all things Virgo. Mercury will station direct on the 22nd 0f September, the day of the fall equinox. Use the retrograde to clean, clear and organize your life! Mighty Jupiter will be leaving environmental Virgo and entering justice loving Libra on September 9th. This is a major planetary shift that opens a portal to expansive new relationships and major activity on the justice front. I will be writing about this in the days and weeks to come…..
You can also read my daily column on Facebook at Heaven to Earth Astrology's Facebook page. If you enjoy our column please like us on Facebook!
Thank you!
THE DAILY PLANET ~ SUNDAY SEPTEMBER 25TH: The Moon is wandering through fiery, flamboyant Leo today, inspiring us to pull out the stops as we express ourselves. Shine like the glorious Sun today! Banish fear and allow yourself to step into the spotlight of your authentic creativity and expression.
ARIES: It's a beautiful day for love and romance Aries. Lovely Venus has entered your house of intimacy, inspiring a desire for deep and meaningful connection. The gracious Moon is in your house of romance and play…Dare to open your heart today. Take the world in a love embrace….
TAURUS: Lovely Venus is gracing your partnership sector for the next few weeks, inspiring a deepening level of connection between you and your partners. Give thought to harmonious and lucrative creative partnerships on the business front. Make time for family fun and creativity.
GEMINI: It's a stellar day to let your heart be your guide. The Moon is moving through Mighty Leo in your communication sector as we continue to emerge from Mercury's recent retrograde. Let your heart weigh in on matters of thought and feeling. Listen to your heart and let love guide you today.
CANCER: The Moon, your ruling planet is cruising through your fiscal sector today, in flamboyant Leo, inspiring you to use your creativity to manifest golden abundance in your life. Spend money on art and self expression today. Your inner artist needs you to put your money where your heart is.
LEO: It's time to nurture your creative soul Leo. Grandmother Moon is inspiring you to pull in and feel your feelings, you have to feel them before you can express them. Inspire yourself with art, performance and self expression that excites and delights you. Recharge your powerful battery.
VIRGO: The Moon is meditating in your inner ashram today inspiring you to do the same. Begin the day by filling yourself with Light. Focus on your third eye today. Divine Light is streaming through you. Be receptive to it's flawless guidance throughout the day. See just how often you can ask for insight.
LIBRA: The nurturing Moon is illuminating your social life today, shedding Light on beautiful creative collaborations. It's a wonderful day to mull over creative projects and the people with whom you might like to create them. Make time for fun and joyful play. Delight in your loving community.
SCORPIO: Even though it's the weekend, the soulful spotlight is on your career and your long term plans. Take heart and move toward the beauty of your professional dreams and desires. Lovely Venus is traveling with you for the next few weeks connecting you with all that you truly love!
SAGITTARIUS: It's a stellar day to write, teach, speak and learn Sagittarius. Let yourself explore new creative terrain today. Dare to express your heart and your playful nature. Delight in creative adventures with a playful spirit and a loving heart.
CAPRICORN: Creative collaborations are where the gold is buried today. Do a little excavating and explore how various veins of precious creativity can be turned into something dazzling and luminous. Dare to share the secret chambers of your heart with your most trusted beloveds.
AQUARIUS: The Moon is pouring her loving Light on your partnerships today, inspiring you to express your loving heart. Make time for courtship and romance. Make time to connect with your collaborators. Let generosity of spirit be your golden guide today!
PISCES: Your work is play today Pisces! Delight in sharing your heart, talent and charisma with others. Step onto the page, stage or podium and let yourself sparkle and shine. The Moon is nurturing your heart and your creativity today. Share both with the world.