The Daily Planet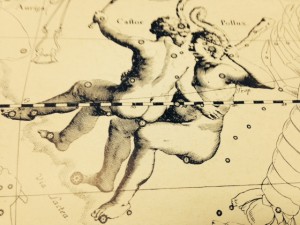 Click here to listen to Kacey on the Radio 02-22-15 Interview Demitra Vassiliadis about  Abraham Lincoln and the Age of Aquarius WHUD-Mixdown
The Sun enters Gemini, the quicksilver messenger on May 20th, shifting us into a month of mental exploration. Mercury, the ruler of Gemini stations direct on the 22nd and our reflective introspection ends as we slowly begin to put our revised plans into action. Mercury will be in Taurus for the remainder of May inspiring us to get grounded and practical as we further our material goals, and allow our revised values to inform our actions. Mercury enters Gemini on June 12th, and our thoughts accelerate as we explore a myriad of ideas and pursuits. With Saturn retrograde in Gemini's opposite sign, Sagittarius, our thoughts and words are weightier and more consequential this month. We are all asked to be responsible administrators of our world. Lovely Venus enters Gemini on the 24th, and our thoughts and words are informed by beauty, harmony and love. The Sun leaves Gemini on June 20th, the summer solstice and enters soulful Cancer, sign of the Universal Mother.
Hear your Heaven to Earth Astrology weekdays at 6:45 am on"Mike & Kacey in the Morning" on 100.7  WHUD and www.whud.com Please know that you can also read my daily column on Facebook at Heaven to Earth Astrology's Facebook page. If you enjoy our column please like us on Facebook!
Thank you!
FRIDAY MAY 27TH: Today Mars the Planet of desire, action and warfare retrogrades back into Scorpio, the sign of covert operations, at 9:51 AM EDT. Shadowy dealings may be revealed. We are all required to revisit our personal transformation. What do you most need to release in order to become the new empowered you. The Moon continues her journey through liberating Aquarius, reminding us that united, there is little that we cannot achieve.
ARIES: Mars, your ruling planet dips back into your sector of shared resources and transformation today. It's a good day to revisit issues around shared wealth. What actions require your refocused attention on the fiscal front? Your romantic life requires an empowering change.
TAURUS: Split your focus between your career and your partnerships today. Mars, the planet of action and desire moves back into your partnership sector till early August. It is time to take action on this front. Finances and emotional issues may require your active attention.
GEMINI: It's a great day to revamp your approach to your daily work. It's a great day to revamp your approach to your health and well being. Let all revamping have empowerment as a goal and endgame. It's a great day to travel actually or metaphorically with friends.
CANCER: It's a great day to actively revisit your relationship to inner and outer children. Make time for art and self expression. Take your power back from inner and outer fuddy duddys, and let the games begin. Work on powerful, transformational creative projects. Let joy empower you!
LEO: The Moon is awakening your partnership sector today. Delight in your favorite relationships. Liberate yourself from historic relationship patterns that you are outgrowing. It's a good day to explore new approaches to dating  and technology. Make powerful changes on the home front.
VIRGO: Mars, the planet of desire and action retrogrades back into your communication sector today. It's time to reconsider ideas that are worth a second look. It's time to change the way you think. Thought is action. Today select only the most empowering, nutritious thoughts and ideas.
LIBRA: It is time to reflect on your finances and take empowering action to merge forces with others. Get your fiscal house in order. Develop a concrete prosperity strategy, and let the income generating actions begin. A project from the past could prove profitable. Make time for creative fun.
SCORPIO: Mars, your ruling planet dives back into your sign for the next couple of months. Today begins a recommencement of your personal transformation. It is time to revisit your true and deep desires and act on them. It may feel like your doing time in a cocoon…but there's a lot of work going on to grow those new wings.
SAGITTARIUS: Begin your day with centering stillness. Mars, the planet of action travels back into your spiritual sector today encouraging you to develop your consciousness. The major focus for the next couple of months is within. Release the past and be free. Be a voice of true friendship today.
CAPRICORN: Today begins a time of reconnection on the friendship front. Review your social network and how to strengthen it. Grandmother Moon is fertilizing both your friendships and your finances today. Take action to grow and tend to both.
AQUARIUS:  Mars the planet of desire, volition and action has stepped back into your career sector till early August, inspiring you to revisit your approach to your career. Mars will be helping you make a strategic professional review. Follow your professional and ideological bliss today.
PISCES: It's a stellar day to revisit projects and presentations that are calling to you. Your network is also calling. Make time for friends and allies. Make time for stillness today. Feed yourself the honey of inspiration, then step up to the plate of your creativity and take a swing.