The Daily Planet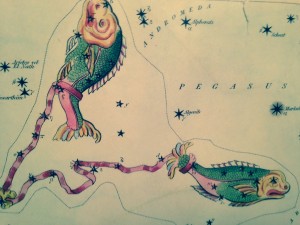 The Sun entered Pisces on February 18, illuminating the vast and beautiful waters of our collective consciousness. The Sun's passage through dreamy, imaginative sensitive Pisces reminds us of our fundamental Unity. Pisces inspires us to Love without limits or boundaries. This Month we are inspired to truly cultivate our imagination a highly potent faculty, and use it to begin truly seeing the world we want to live in. Pisces, the sign of spirituality inspires us to adopt a daily spiritual practice that will elevate our consciousness, increase or empathy and bring us to greater enlightenment. Delight in music, dance, poetry and film this month. Catch the wave of Higher Love and ride it to the shore of Bliss!
Heaven to Earth Astrology by Demitra Vassiliadis www.heaventoearthastrology.com Read your daily forecast below:
THE DAILY PLANET ~ THURSDAY FEBRUARY 23RD: The day begins with the Moon void in Capricorn, till this afternoon at 12:17 PM EST when she flies into the friendly skies of Aquarius. Use the morning to take stock of administrative projects. Tie up loose ends and get centered around career matters. Avoid making major decisions till 12:17 PM EST when the Moon enters Aquarius. The afternoon looks great for networking, group efforts and social activism. Connect with your Higher Mind, and let its brilliance guide you to synchronous meetings and genius solutions.
ARIES: Begin the day on a practical wave of administrative housekeeping. Tie up loose ends. Take stock of what has been done and what remains to be done. This afternoon at 12:17 the Moon sails into your friendship sector and it's a stellar day to widen your sphere of social influence. It's a great day for your social life. Connect with cherished friends and make new ones.
TAURUS: It's a stellar day for your career Taurus. Today as Grandmother Moon cruises through your career sector she reminds you that success is a group effort. The Blazing Sun sailing through your networking sector echoes her powerful message. Let your efforts today be aimed at strengthening existing alliances and building new ones. Stay connected to the Source. The strength of that relationship determines everything else.
GEMINI: The Moon leaves the depths of your chart today and climbs to the heights of your travel and higher learning sector, giving you some much needed perspective. It's a stellar day to connect with friends and exchange ideas. Connect with colleagues and explore collaborations. Connect with potential clients and present your talents and services. Today your career vision advances one relationship at a time.
CANCER: The Moon, your ruling planet dives into your deepest sector today. Take the plunge with her and explore all that has kept you from deepening your connection to friends and all that has bound you from all forms of deep sharing. It's a stellar day to explore ideas you may have for group projects that could have a transformational and evolutionary impact on your audience.
LEO: The gracious Moon is cruising through your partnership sector today, inspiring you to liberate yourself from beliefs that have unfavorably influenced your love life and ability to form fair and mutually loving partnerships. It's a great day to bring the Higher Self into your closest relationships. Be free of what has not worked so as to attract your authentic partners. It's a great day to work on group efforts. Today liberation is a group effort.
VIRGO: It's a stellar day to nurture your work environment by nurturing your work relationships. Let harmony and a wonderful humanitarian dynamic govern your approach to your fellows at work. Seek to be of service to those you work with, and delight in the ensuing harmony. It's a great day for group projects and cultivating the group mind…which has the benefit of collective wisdom….
LIBRA: It's a stellar day for your creativity beautiful Libra. You are one of the most principled sign of the zodiac, and today the Moon is cruising though Aquarius, your natural playmate and the other most principled sign, (along with Virgo). It's a great day to dream up social projects with a humanitarian or social justice theme. It's a great day for group projects and group fun. Never underestimate the power of a rip roaring good time, to inspire and renew the spirit.
SCORPIO: The Moon is cruising through your home sector, where she is shedding her humanitarian Light today. It's a great day to make time for resting, nesting and a strategic withdrawal from life. Pull in and process your feelings. Today invite your Higher Mind, to show you what needs to change on the home front or in your relationship to your family or ancestral emotional patterns.
SAGITTARIUS: The gracious Moon is pouring her brilliant Light into your mind today, inspiring your thinking to elevate to a whole new level. Invite the Divine Light of true brilliance to direct your thinking today. Let it guide your thoughts in brilliant and evolutionary new directions. Free your mind…your body and all else will follow. P.S. Make time for your creativity.
CAPRICORN: Begin the day with a reflective focus on yourself and all that has been changing in your relationship to yourself. Take stock of actions you would like to take to nurture the person you are becoming. The Moon cruises through your sector of finance, values and possessions this afternoon inspiring you to explore the principles, values and people that you prize most deeply. Explore group projects that excite and delight you.
AQUARIUS: Begin your day with meditation and reflection while the Moon is void in your inner ashram. Tether your Consciousness to the Higher Consciousness that you are the sign of. Write down the principles that you wish to align with today, and in your professional climb. This afternoon the Moon sails into your sign and it's time to take wing and fly toward your soul's calling and true Bliss. Make time as well to alight in your nest, plump your feathers and rest.
PISCES: Spend the morning taking stock of your social life and all that you are seeking to accomplish on that front. Reflect on what further actions need to be taken. This afternoon at 12:17 PM EST, the Moon cruises into your spiritual sector, where she begins to align you with a Higher Consciousness and a Higher Love. Make time for stillness and silence. Make time to commune with the Still Small Voice within. Make time to commune with your closest friends. Make time to commune with your favorite body of water.
THE DAILY PLANET ~ WEDNESDAY FEBRUARY 22ND: The gracious Moon is in executive mode again today, as she cruises through responsible Capricorn. Today she dances with visionary Pisces inspiring us to dream up a much better world. This afternoon she schedules a merger with Mighty Pluto regarding all that requires major and complete transformation in the world of finance, business and executive function. It's a great day to make changes to your business, life, and approach to finance. The Moon and Pluto inspire us to release all that is not working in our business and lives, and explore entirely new paradigms. The Capricorn Moon goes void late tonight at 10:24 PM EST.
ARIES: It's a great day to step into your power and authority on the career front Aries. Let go of what is not working, and merge with what is. This could be a great time for you professionally. Step up to a whole new plate of success. Trust your gut on the business front today. A powerful alliance could appear.
TAURUS: You have a powerful and transformational message to hone or deliver today. The nurturing Moon and powerful Pluto are both seeking expression through you. Step up to the page, stage or podium and let her rip. This is a day to be heard. Your message could well transform business as usual. Make some time for meditation which will increase your brilliance and intuition.
GEMINI: The gracious Moon is cruising through your deepest sector today, where she joins Powerful Pluto, the planetary ruler of the depths. Today deep and intense feelings may be unearthed. Let them emerge. They are coming up to be healed and transformed. Practice radical self care today. Treat yourself the way you want others to treat you. It's a great day to explore issues of merged finances. There could be big powerful changes afoot on this front.
CANCER: The Moon, your ruling planet, is cruising through your sector of partnership, where she merges with powerful Pluto the transformer. Changes are afoot on the partnership front. Explore how your partnerships can be both nurturing and empowering. Explore new collaborations that feel like creative and fiscal alchemy, that turns all things and circumstances to gold.
LEO: The Moon is cruising through your sector of organization today, inspiring some epic Feng Shui. This is a great day to be a tornado of cleanliness, decluttering and major transformation of your environment and business infrastructure. This is also a great day to make deep and systemic changes to your approach to health. The nature of your work may be changing. Seek new and empowering skills.
VIRGO: There are big and powerful changes afoot in your creative sector. The arts and creativity are the source of inner and worldly empowerment today Virgo. On the personal front it is time to truly be present to your inner child and your inner artist. Schedule real time for fun, play and creativity. Today they lead to deep transformation. Your creativity is also a major Source of worldly success. Explore how art projects could really pay off.
 LIBRA: It's a great day for changes on the home front and deep inner changes to your root sector. So much that is brilliant and good comes to us from our ancestors, as does so much that is twisted and dysfunctional. Today let compassion aid you in forgiving and releasing all that was injuring in your upbringing or ancestry. Ruthlessly release disempowering beliefs and their unhealthy effects in your life. Ask your Higher Self to aid you in this powerful alchemy.
SCORPIO: You are the sign of alchemy, which is the process of turning lead into gold. Today the gracious Moon and powerful Pluto, your ruling planet have teamed up to aid you in some potent mental alchemy. Begin your day with meditation. Tether your mind to the Source of all Brilliance. Take note of your most disempowering core beliefs. Write them down, then write their opposites. Keep your focus ruthlessly fixed on theses empowering mantras. Let the alchemy begin.
SAGITTARIUS: The gracious Moon has teamed up with Mighty Pluto, in order to continue the empowerment that is occurring in your financial sector. It's a great day to jettison all thoughts of scarcity and unworthiness. Replace them with thoughts words and deeds based on the rock solid belief that it is an abundant Universe, and that Abundance is streaming toward you even now from all points in space and time…In fact you are soaking in it….right now.
CAPRICORN: The gracious Moon has teamed up with powerful Pluto to empower you today. Energetically today you can release a great deal of mental and emotional energy and patterning that has outlived its usefulness. A major transformation is underway. Keep strengthening your wings inside the cocoon. This will give you the power to take to the sky…when the time is right.
AQUARIUS: The Moon joins Pluto today in your inner ashram. Together they are performing spiritual alchemy which leads to the destruction of old career visions which you have outgrown. They are being replaced with a new path, designed by your Higher Self. Stay close to the Divine Engineer as the new path opens before you. Every step you take the Universe, that you serve, is taking with you. Keep some of your focus on powerful, artful communication.
PISCES: It's another stellar day for your social life Pisces. The Sun and Mighty Neptune are inspiring a beautiful new Vision on the partnership front. The Moon and mighty Pluto are inspiring an empowering transformation on the social front. Delight in the company of others. Today swim with your favorite school of harmonious fish. Enter the waters of shared delight and catch the current that leads you to your true Bliss.