The Daily Planet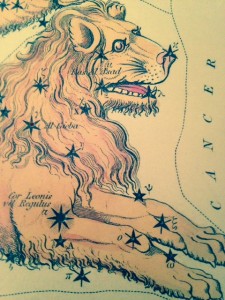 Click here to listen to Kacey on the Radio 02-22-15 Interview Demitra Vassiliadis about  Abraham Lincoln and the Age of Aquarius WHUD-Mixdown
The sun entered creative flamboyant Leo on July 22, inspiring us to courageously express ourselves!. This month Jupiter, the Sun and Mercury in Leo are encouraging us ti live a heath centered life. Take big creative risks. Share your heart and your talent.  The Sun will remain in passionate fiery Leo till August   when it enters devotional refined Virgo. Use the next month to connect with your creativity. Connect with your inner or outer children. Explore activities that are truly fun for you! Perform, create enjoy!!!!
Hear your Heaven to Earth Astrology weekdays at 6:45 am on"Mike & Kacey in the Morning" on 100.7  WHUD and www.whud.com Please know that you can also read my daily column on Facebook at Heaven to Earth Astrology's Facebook page. If you enjoy our column please like us on Facebook! Thank you!

www.heaventoearthastrology.com Hear Heaven to Earth Astrology 6:45 am on 100.7 WHUD & www.whud.com. Read your daily forecast below!
FRIDAY JULY 31ST: The Full Moon in Aquarius takes place today at 6:43 AM EDT. Celebrate the Blue Moon with your friends. The Aquarius Full Moon brings artistic collaboration to full blossom. Enjoy your creativity with your like minded posse. Spend the day making music, art, film and performance with friends. Work for the causes that you love. It's the Full Moon of friendship and activism. Today join the family of humanity….We are family….I got all my people with me…..Sending Love and Blessings to All People Everywhere…..
ARIES: Today's full Moon occurs in your friendship network and brings your social life into full and splendid focus. Enjoy your creativity as you delight in the beautiful web of friendship you have woven. This is a great day to network. Make creative plans with friends.
TAURUS: The Full Moon is shining bright on your career sector pouring fertile opportunity down on you. Congratulations! Some part of your career has blossomed. Celebrate your successes with your team and delight in your children home and family. Tonight celebrate your work life balance.
GEMINI: Today's Full Moon brings communication issues to a head. Avoid hasty and dramatic speech and fit's of temperament. On the positive side, it's a great night to capture your creativity in beautiful  art and performance. Express your art and your heart to friends and loved ones.
CANCER: Today looks great for cashing in on creative projects. Celebrate artistic and fiscal collaborations with your team. Today liberty comes by sharing with friends and associates. Congratulations, today is a milestone in your deep inner liberation!
LEO: Today's Full Moon is shining in your partnership sector illuminating your personal and creative relationships. Spend the day with the friends and people who are most important to you. Express your legendary heart with your beloved and your community.
VIRGO: Delight in healthy activities with friends today. Delight in your community at work today. It's a great day for an exercise class or some other group activity that promotes a healthy body, mind and spirit. Greet the Sun today and feel your own radiant and divine nature.
LIBRA: The Full Moon is shining in your recreation and child sector. Have fun with your inner or outer child today. Enjoy self expression and creativity. Delight in the pageantry of life. Delight in your community's creativity. Celebrate joy today!
SCORPIO: The Moon is shining in your house of home today. Congratulations, both your home and career are blossoming today. You have completed a phase of growth and development regarding your home base. Home is the foundation that supports your career and public life. Today both are blossoming nicely.
SAGITTARIUS: It's a great day to celebrate your progress on the writing and communication front. Your higher mind has been awakening and liberating you from outworn ways of thinking. Your writing and other creative communication also comes to full fruition today. Celebrate your artful message.
CAPRICORN:  Today's full Moon occurs in your financial sector, bringing finances to a cycle of fullness and completion. Today your self esteem and your material world blossom in a wonderful new way. These days you are valuing your friends and community more than anything. Today express that love!
AQUARIUS: It's your day Aquarius! The full moon in your sign makes this a day when your cherished friends and causes take center stage. Celebrate your inner and outer freedom today. Take a loving action for humanity today. Be your authentic self and delight in wonderful new partnerships.
PISCES: Enjoy spending quality time with your soulful community today. In fact it's a great day to stop time. This can best be done by being entirely in the moment. Gather with your spiritual friends and celebrate the beauty of friendship and nature. It's a great day to spend near water watching the Moon and your mood rise.
THURSDAY JULY 30TH: The Moon in Capricorn goes void at 2:50 PM EDT till it enters social, liberated Aquarius at 5:40PM EDT Wrap up administrative duties today. Spend the evening socializing.
ARIES: Use the morning to take effective actions for your business or long term goals. During the void time, wrap up administrative duties. Tie up loose ends. Straighten up the details of your work. Make social or networking plans for the weekend.
TAURUS: Spend the morning on presentations and advertising. It's also a great morning for writing, education and publishing. Use the evening to network for your business. Spend pleasurable time with clients. Effective teams can work and play together.
GEMINI: The Moon continues her responsible journey through your shared finance sector this morning. You are inspired  to explore fair fiscal sharing. Wrap up the details of your fiscal life today. Tidy up the office and your finances. Make delightful adventurous social plans for the evening.
CANCER: Spend the day in a soft focus around your partnerships. Make plans with partners in the morning. In the afternoon check in with you belly barometer regarding important relationships. Tonight looks good for discussions about creative collaborations.
LEO: Use the day to be a ninja of organization and cleanliness. Continue to organize all areas of your business life. Make a list of each area that needs to be cleaned cleared and organized. Get current with your finances. This evening the Moon shines her magical light into your relationships drawing your beloved to you.
VIRGO: It's a great day to organize creative projects. Spend the day wrapping up the details of work projects. Check in with your inner child today. All work and no play could make you cranky today. This evening connecting with friends promotes health and well being.
LIBRA: Keep the focus on nesting and housekeeping on all levels. Create order and beauty at home and work. This evening the focus shifts out of nesting and into delightful self expression with your posse. Enjoy cooking up evolutionary plans and projects with your peeps.
SCORPIO: The Moon spends much of the day in your mental sector today, inspiring fertile business ideas. It's a good day for creative mulling as you organize your thinking. Prioritize your goals today. What needs to happen first. This evening pull in to your home and restore.
SAGITTARIUS: Wrap up your fiscal focus today. Spend time and money on activities that build self respect and self esteem. Tackle tasks that intimidate you. Make progress and feel the gratification of a job well done. This evening reach out to friends and share ideas.
CAPRICORN: The Moon begins the day in your sign inspiring you to keep the focus on yourself.  Avoid emotional outbursts during the void period. The evening looks good for enjoying the company of your most valued friends.
AQUARIUS:  Spend the day in a state of meditative stillness. Let this quiet presence inform all that you do. Release the emotions and disappointments of the past. You are about to begin a whole New cycle of feelings. Spend the night pursuing your soul's creative bliss.
PISCES: The Moon enters you inner ashram today, inspiring you to hand with your like minded spiritual homies. Make time to be still with your peeps. It's a great day for yoga, water sports and meditation. Today evolution is a team sport.