The Daily Planet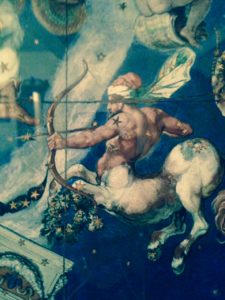 Click here to listen to Kacey on the Radio 02-22-15 Interview Demitra Vassiliadis about  Abraham Lincoln and the Age of Aquarius WHUD-Mixdown
The Sun enters wise adventurous Sagittarius on November 21ST, joining Mercury, and executive Saturn, in the sign of the centaur, till December 21ST, the Winier Solstice, when the Sun will enter Capricorn, and winter officially begins. The Sun's journey through the sign of wisdom, generosity, gratitude, travel, higher learning and cultural exchange is always a time of festivity and exploration. It's a great month to explore other cultures. Inner and outer travel is the main delight of this globetrotting sign. With Executive, responsible Saturn in Sagittarius for the next year, this month has us in a weightier reflection than usual. Give thought to your deepest sense of duty. Learn from cultures will a long term sense of responsibility. Be the wise CEO of your own life. Make time for both your greatest joy and your deepest sense of duty. 

Heaven to Earth Astrology by Demitra Vassiliadiswww.heaventoearthastrology.com Read your daily forecast below:
THE DAILY PLANET ~ SATURDAY DECEMBER 3RD: The Capricorn Moon goes void around dawn at 5:16 AM EST till this afternoon at 2:44 PM EST. Use the first half of the day to get grounded and centered around executive matters. We are each the CEO of our own life. Contemplate how to take your executive power back from this horrendous election cycle. Explore your own inner Constitution. Define your own boundaries of what is acceptable and what is unacceptable to you. Notice how you can decide how to govern your life and deploy your inner and outer resources. Reflect on how you might like to do this. At 2:44 PM EST the nurturing Moon cruises into evolutionary Aquarius, and it's time to declare your Independence from all that oppresses you. Connect with like minded people. Take an action for the Liberty of others. Build your community…together we are Mighty.
ARIES: Use the morning to kick back and reflect on your business and your long term goals. Define success and happiness for yourself. See that you are climbing toward both. This afternoon looks great for your social life. Connect with friends. Work for a cherished cause. Build your network.
TAURUS: Use the morning to reflect on your executive philosophy. Where do you stand philosophically when it comes to administrating your business, life and the world in general? This afternoon the Moon cruises into your career sector and it's a great day to mix business with social pleasure.
GEMINI: The Moon is cruising void through your sector of deep feelings and shared resources this morning till 2:44 PM EST. Use this time to make sacred space for your feelings. Avoid emotional arguments. This afternoon the Moon cruises into your travel sector and it's time to travel out of the depths and get some perspective.
CANCER: The Moon is cruising void through your sector of partnership this morning inspiring you to go with the flow with partners. Give each other emotional space and comfort. The afternoon looks great for deepening connections with partners and friends. Delight in collaboration.
LEO: The Moon is cruising void through your sector of organization and health, making this a great morning to go with the tidying up flow. It's a great morning to get centered by creating order. The afternoon looks great for socializing and partnership.
VIRGO: It's a beautiful morning to relax, and putter around creatively. Pursue fun and pleasure. The afternoon may require that you do some work networking and organizing. Delight in the people you work with. Delight in your friendships. Today they support your health and well being.
LIBRA: It's a perfect morning for nesting and aimless puttering around at home. Puttering ought to be taught in workshops. It is great for mental health. The afternoon looks wonderful for enjoying the arts with friends. Get out and connect with your tribe of affinity.
SCORPIO: Silence is golden this morning while the Moon is void in your mental sector. Take a mental vacation. Listen to music…meditate…look through magazine and beautiful picture books. This afternoon the nurturing focus shifts to the home front. Nest and rest.
SAGITTARIUS: The Moon is cruising void through your fiscal sector, inspiring you to take a break from the finances. It's a good time for reflection not action on fiscal matters. This afternoon the focus shifts to your mental sector and the Muse is with you. Enjoy friends, and your creativity.
CAPRICORN: The Moon travels void through your sign this morning, making this a stellar day to sleep in and nurture yourself. Make space for your feelings. Enjoy cocooning. This afternoon the Moon travels into your fiscal sector in social Aquarius, and it's time to enjoy spending some time and money on your social life.
AQUARIUS: Begin the day in your sacred inner ashram. Give your cares and worries to the Divine. There is a larger plan at work. Ask to be in alignment with your assignment just for this day. At 2:44 PM EST, Grandmother Moon cruises into your sign and surrounds you with comfort. Begin to feel your activist soul reviving. Connect with the nectar of like minded people.
PISCES: Go with the social flow this morning, or hole up and enjoy some solitude. The afternoon looks great for connecting with your spiritual community. Enjoy a peaceful group activity, like a hike or a yoga or dance class. It's a great day to nourish your friendships.
THE DAILY PLANET ~ FRIDAY DECEMBER 2ND: The Moon continues her journey through Capricorn today merging her nurturing energy with Pluto's transformational fires. Today we are instructed again to administrate our lives and our world as maternal stewards. How can we create mission statements that include protecting the earth, the children, the needy and the vulnerable. Today let Grandmother Moon inspire your approach to life, business and success. Be the sheltering wing that enfolds and protects.
ARIES: It's a great day to pursue soulful success. Keep climbing toward your goals, while creating a corporate climate that truly supports you, employees and co workers. Widen your goals to include plenty of rest, self care and an emotionally safe and nurturing environment at work.
TAURUS: The Goddess of Love is cruising through your publishing sector along with the nurturing Moon and powerful Pluto. This potent line up is seeking expression through you and your business. Explore how Love and nurturing kindness can transform your business model, message and the business world in general.
GEMINI: You are changing way deep down Gemini. In the secret chambers of you heart and soul, whole continents are sinking that no longer serve you as beautiful new continents of loving kindness and self acceptance are rising from the depths of your being. These inner changes are resulting in a whole new way of relating to others. You deserve love, respect and tenderness.
CANCER: It's another stellar day for your powerful transforming partnerships. Today let tenderness and love guide all of your interactions. Dare to be vulnerable. It is the key to everything. It is certainly the key to intimacy….and it is a sign of great strength. Dare to truly be yourself. It's a great day to advance business partnerships.
LEO: Your work and your environment are changing. Embrace the beautiful evolutionary changes to your environment and your approach to daily work. Delight in the new order and beauty that you are creating. Delight in the new relationships that are helping you grow and transform. Say yes to change!
VIRGO: It's a stellar day for your creativity Virgo. Make time for the Muse by making time to nourish your art and self expression. Today creative projects could lead to big success, especially those with a truly feminine focus. Get serious about having fun today. Schedule it in…make time for delight.
LIBRA: The Moon is cruising through your home sector today, along with Venus, your ruling planet, and Pluto the transformer. Things need to change on the home front, but in the most loving way. Explore how to bring more nurturing love and beauty into your beautiful nest and your family relationships.
SCORPIO: It's another beautiful day for mental inspiration and business acumen. Begin your day with meditation or any practice that builds mental discipline. The Goddess of Love and Beauty has entered your mind along with the nurturing Moon. Be receptive to beautiful ideas, gorgeous plans and a blueprint that leads to success. Open your mind to Love.
SAGITTARIUS: Keep your eyes on the beautiful, fertile, budgeted fiscal prize today Sagittarius. It's a great day to further your financial goals. Get help. Be vulnerable. Say yes to new ideas, projects and income generating actions. Keep setting fiscal boundaries. They are key to everything.
CAPRICORN: The growing Moon is wrapping you in her silvery blanket of nurturing protection even as she inspires you to take new and beautiful actions toward your soulful goals and desires. Love and Beauty are powerful forces. Explore Love and Beauty based business models. You are beauty's soulful agent today.
AQUARIUS: Keep the focus on the Higher Self. You can never go wrong with that formula, but today, the nurturing Moon, powerful Pluto and lovely Venus are all meditating and doing yoga in your inner ashram. Join them and contemplate your career, which these days is your devotional path.
PISCES: It's a beautiful day for networking Pisces. Your social life is transforming in a lovely way. Give and receive nurturing kindness to friends and new connections. It's a great day for group activities. Take a step out of your social comfort zone. The possibilities look sweet today.