The Daily Planet
You can hear HEAVEN TO EARTH ASTROLOGY weekdays at 6:45 AM. Tune in to Mike and Kacey in the Morning at 100.7 FM WHUD serving Westchester and The Hudson Valley.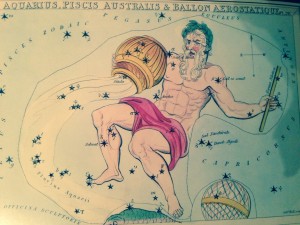 The sun is in AQUARIUS till February 18th inspiring us to awaken to our highest potential as we work toward  cherished humanitarian causes and Universal Civil Rights for All. This is a month to be social and reach out to friends and colleagues.
FRIDAY JANUARY 30TH: The moon is void in Gemini from 4:24 AM for the rest of the day. Mercury, the ruler of Gemini is retrograde. This is a day to be especially mindful and present when speaking or driving. Stay frosty and zen like in your focus. No texting or multitasking behind the wheel.
ARIES: The moon is void in your communication sector today making this a great day to avoid impulsive communication of any sort. Spend the day reflective about exactly what it is you want to convey or publish. Think of the entire day as a meditation on your writing or your message.
TAURUS: It is a great day to think about money, but refrain from speaking about it. Consider your finances, and any deals you are contemplating. Make no financial commitments today. Simply notice how you are feeling and what you would like to say. For today, that's enough.
GEMINI: You are more emotional than usual today Gemini. Let yourself be nurtured today. Feel your feelings and express them on the page or with a trusted friend. Avoid emotional outbursts or arguments. Instead pull in and nurture yourself.
CANCER: Today you are the Zen speaker. Say less achieve more. Say nothing achieve everything.
LEO: Reflect on your friendships today. Contemplate the big beautiful creative projects you long to do, and what it will take to do them. Make a list of the help you will need, then list the people who could help you. For today just map the social web that could help you achieve your desires.
VIRGO: Prepare for the weekend by establishing order in your career. While you are taking care of loose ends and professional housekeeping, contemplate your goals and how close you are to achieving them. Today pay particular attention to how communication is needed to achieve success.
LIBRA:  Use the day to get focused and centered regarding publishing or communication projects. It is a good day to mull and meditate on these things. It is not a good day to come to conclusions or make big decisions regarding communication projects. Simply observe and contemplate.
SCORPIO: Notice your deep dark feelings today but do not act on them. Notice your deepest feelings regarding issues of money, self esteem and intimacy. Today by simply observing your feelings,  something new can enter. Today, he who reacts is lost. He who observes and remains still is victorious.
SAGITTARIUS: Go with the flow today when it comes to partnerships. Avoid conflict. You are defining yourself in a whole new way these days. Set boundaries. Be disciplined. Today imagine and notice what you would love your partnerships to be. For today simply dream up your ideal.
CAPRICORN: In preparation for the weekend get the workplace in order. The way you leave it is the way you will find it. Take care of the little things today and let the big things take care of themselves. Be mindful of how you speak to associates and coworkers.
AQUARIUS: Creativity is a group sport these days. Today mentally pick your team. Make no final decisions, simply notice who you would most like to play with. What skills do you lack that others could provide. Give it some pleasant thought.
PISCES: Take the day easy. Be mindful in your speech today especially with family members. This is one of those silence is golden sort of days. Begin the weekend with some quality nesting. Curl up and restore from the rigors of the week.
THURSDAY JANUARY 29TH: The moon is in quicksilver Gemini today. Mercury the ruler of Gemini is still retrograde making this a great day to rewrite, reconnect and rethink.
ARIES: The moon in your communication sector has you reflecting on who you might want to reconnect with. Friendships and associations require your reconsideration. Meditate on what feels good and what feels off. If there is someone you lost touch with, that you would like to reconnect with, call them today.
TAURUS: Writing, teaching and speaking can bring in real money these days. Today give some deep thought to your message or the curriculum you are developing. Work on your presentations. Work on rewrites. It is a great day to both edit and revise.
GEMINI: Check in with your gut and your feelings rather than your head today. The moon in your sign is inspiring your emotional intelligence to kick in today. As you reflect on your overall message and style of communicating, ask yourself how you can appeal to hearts and souls as well as minds.
CANCER: Words always have great power, but today, for you, even more so. Choose your words today as if they were magical incantations. Resolve to only say kind nurturing and positive things about yourself and about others. Notice your soul perk up in response to this practice.
LEO: It is a great day to reach out and reconnect with friends from the past. It is also a great day to renew your membership to clubs, groups or organizations that you once belonged to. Reflect on business and personal partnerships today. See what occurs to you.
VIRGO: Your career requires your attention today. Take care of it as though it were a baby bird. How can you foster your success or the success of your company by applying a maternal approach. How can you create a safe environment in which reasonable risk taking and creativity can flourish. Ponder this today and if it feels right, take some actions.
LIBRA: Today revisit ideas involving publishing and presentations. It is a great day to reflect on creative projects that could be both fun and lucrative. Your work this year involves communication. Today reflect on an idea you could resurrect that might be a golden goose.
SCORPIO: Your holy work these days involves building both your fiscal reserves and your self esteem. Today notice how far you have come in terms of believing you deserve the best in life, love and friendship. Today explore the depths you love so well, then share with a trusted friend or your partner.
SAGITTARIUS: The moon is in your house of partnership today bringing up feelings and vulnerability in that realm. First get in touch with how you are feeling, then have the courage to gently communicate it. Dare to ask for what you need today. Remember vulnerability equals strength. Be open also to what your spouse or partner might need.
CAPRICORN: Work related communication requires your attention today. Think about any correspondence you need to write and work on it today. It is also a great day to get all e mails and social media content in order. Notice all day the connection between your thoughts, your words and your body state.
AQUARIUS: Your creativity is calling today. Answer it. It is a great day to revisit or edit creative writing projects. Feed your soul the art and inspiration that utterly delight you. Make time to explore a variety of art forms: poetry, music, photography…..In this way your own creativity can truly gestate.
PISCES: Today the moon is moving through your house of home and ancestry, inspiring you to remember and reach out to your family. It is a great day to reconnect with family members. It is a good day to reflect upon family business. Your ancestors are with you today.