The Daily Planet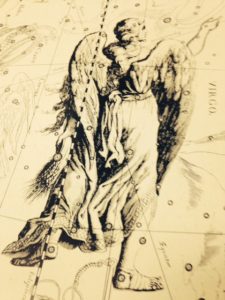 Click here to listen to Kacey on the Radio 02-22-15 Interview Demitra Vassiliadis about  Abraham Lincoln and the Age of Aquarius WHUD-Mixdown
The Sun enters sacred devotional Virgo at 12:38 PM EDT on August 22nd, ushering in four weeks of environmental awareness. Virgo is the Goddess of the earth who reminds us that our health is entirely dependent on the health of our Mother Planet. This month strengthen your bonds to nature. Buy organic. Eliminate chemicals and pesticides from your life. Virgo reminds us that cleanliness is next to goddessliness. It's a wonderful month to get organized and hone your skills. The Sun will be traveling through Virgo till the fall equinox which occurs on September 22nd. Mercury, Virgo's ruling planet goes retrograde on August 30th. beginning a time of reflection and reconsideration of all things Virgo. Mercury will station direct on the 22nd 0f September, the day of the fall equinox. Use the retrograde to clean, clear and organize your life! Mighty Jupiter will be leaving environmental Virgo and entering justice loving Libra on September 9th. This is a major planetary shift that opens a portal to expansive new relationships and major activity on the justice front. I will be writing about this in the days and weeks to come…..
Hear your Heaven to Earth Astrology weekdays at 6:45 am on"Mike & Kacey in the Morning" on 100.7  WHUD and www.whud.com Please know that you can also read my daily column on Facebook at Heaven to Earth Astrology's Facebook page. If you enjoy our column please like us on Facebook!
Thank you!
TUESDAY AUGUST 30TH: Mercury stations retrograde today in Virgo at 9:04 AM beginning a three a three week period of mental reflection recovery and revision. Virgo is the sign of diagnosis, health. specialization, attention to detail and the environment. For the next few weeks, the heavens are instructing us to review and revisit our approach to all of the above. This is a great time for a retreat and for any practice aimed at restoring our health, especially on the digestive front. Be mindful of your words during the retrograde. Increase time on the meditation mat. Re think your overall approach to work and health. The Moon continues her journey through Mighty Leo today inspiring us to courageously follow our heart's true desire. Again keep an eye on your ego, be truly brave and move toward love and vulnerability. Lovely Venus just entered Libra, inspiring us to be agents of Beauty and Justice this month…
ARIES: Today Mercury stations retrograde in your sector of work and health, beginning a three week review of your approach to both. It's a great day to begin a review of the systems that support your daily work. Greater effectiveness can be had with some adjustments. It's a great day to start a cleanse or a dietary shift to feed your body maximum nutrition.
TAURUS: Your creativity requires your attention. Your approach to child rearing may also require some adjustments. Mercury stations retrograde in your creative sector today, inspiring a reflection and reconnection to your inner artist. You may find yourself reconnecting with artists and projects from the past. Your inner child is the key to your well being this month.
GEMINI: Mercury, your ruling planet stations retrograde today in your home and family sector. For the next three weeks you are on a retrospective stroll down family history lane. Your home life has been changing and expanding. Today explore renovations or home improvements that require your attention. As you change your outer home, your inner home is also experiencing soulful renovations.
CANCER: This is a month of mental rebooting Cancer. Mercury, is inspiring a reflection on your ideas, projects and skills. An excellent use of this retrograde would be to commit to changing and healing your overall thinking for the next few weeks. Commit to a daily mental practice like meditation, affirmations and healing core beliefs and adhere to it. As we think….so we are!
LEO: It's a wonderful month for fiscal recovery Leo. Mercury is inspiring healing and reorganization of your finances and your feelings of self esteem. Explore your core beliefs about money and supply. Explore your core beliefs about what you feel you deserve. This month both are ready to heal as you come to believe that you are truly worthy of abundance. Practice willingness to receive!
VIRGO: Mercury, your ruling planet stations retrograde in your sign today! This is a big deal. You have been going through a massive expansion all year while Jupiter has been moving through your sign. On September 9th Jupiter will be leaving Virgo for 12 years. What unfinished business regarding your expansion requires your attention. Keep the focus on yourself and your increasingly abundant life!
LIBRA: It's a stellar day for your spiritual life Libra! You are about to enter a wonderful phase of expansion and opportunity on September 9th when Jupiter enters your sign for the next year. This last 12 months has been about releasing the past and connecting to your increasingly massive spiritual guidance system, The Heavens are asking you to strengthen this connection and release any remaining psychic clutter. This retrograde is sort of a wind up before the golden pitch!
SCORPIO: It's time to reflect upon your friendship network Scorpio. Your entire approach to socializing and networking is up for review. This is a month to reconnect with friends and business contacts from the past. Mercury will be guiding your social reflection for the next 3 weeks. It's a great time to heal rifts with friends. Reconnect with people who can help you fulfill your hopes and dreams.
SAGITTARIUS: Mercury stations retrograde in your career sector today, inspiring a professional reflection. It's a great time to review your long term goals and the small, consistent, practical actions required to achieve them. It may be time for a course correction on the professional front. Is there a professional project that you would love to resurrect? Realign with your cherished goals.
CAPRICORN: Today begins a retrospective on the philosophical front. It is time to reevaluate what you believe and how you communicate or present your beliefs to others. It may be that a particular publishing project requires some revamping. It may be time to resurrect a beloved promotional idea. Your approach to work, service, the environment and health may want to be bigger than you first imagined.
AQUARIUS: One of Mercury's ancient powers was to travel between Olympus, (Higher Consciousness) Earth, (Everyday Consciousness) and Hades, (Subconsciousness). For the next few weeks Mercury will be taking a healing reflective journey through your subconsciousness with the endpoint goal of expanding your capacity to share yourself, your talents and resources with others. Explore what stands in the way of building intimate relationships and let the healing begin. Is there an expansive offer that you need to revisit?
PISCES: Today begins a reflexion on the partnership front. You have been in a year of expansion with business and personal partners. Today begins a period of reflection and reconsideration of projects and partnerships. Analyze where you most want to put your energy and with whom. Make time to heal and recharge with your beloved. Review how far you have come this year.