The Daily Planet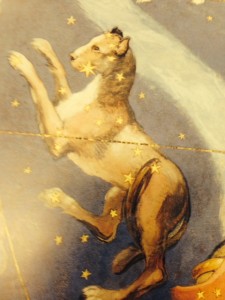 Click here to listen to Kacey on the Radio 02-22-15 Interview Demitra Vassiliadis about  Abraham Lincoln and the Age of Aquarius WHUD-Mixdown
The Sun enters regal, expressive Leo on July 22nd, inspiring us to share our unique creativity with others. Be brave and vulnerable this month. Dare to express the love in your powerful heart. This is a month to pull out the stops on the creative front! The Sun will be cruising through Leo till August 22nd when it enters devotional Virgo…Till then let your Heart be your courageous, generous guide. Express yourself!
Hear your Heaven to Earth Astrology weekdays at 6:45 am on"Mike & Kacey in the Morning" on 100.7  WHUD and www.whud.com Please know that you can also read my daily column on Facebook at Heaven to Earth Astrology's Facebook page. If you enjoy our column please like us on Facebook!
Thank you!
Heaven to Earth Astrology by DemitraVassiliadis.www.heaventoearthastrology.com Hear Heaven to Earth Astrology 6:45 am on 100.7 WHUD & www.whud.com. Read your daily forecast below:
THE DAILY PLANET ~ MONDAY JULY 25TH: The Moon continues her journey through Aries, where she joins evolutionary, revolutionary Uranus, inspiring us  to take liberating action today. Declare your inner Independence from all that squelches your authentic self. Let the Sun's passage through Leo give you the courage to truly follow your heart!
ARIES: Think and act outside the box today Aries. Begin to take innovative action outside of your comfort zone. Starting in September your world will be expanding through new partnerships. Begin to set the groundwork for big beautiful new collaborations now!
TAURUS: The Moon is joining the planet of awakening in your spiritual sector, inspiring you to go within and seek inner liberation. Paradoxically the Moon in action packed Aries is inspiring you to be still and connect with your Higher Mind. See just how much guidance you can seek from above.
GEMINI: Begin the week with a productive orderly focus on networking. List 4 goals on the networking and social front. Explore who you want to connect with and why. Take prioritized action to achieve both professional and networking goals. It's a lovely evening for social plans.
CANCER: Your career is calling today. Answer the call. Action is the magic word on the administrative front. Explore new ways to use technology to further your goals. Your career is poised to take an evolutionary leap. Explore just what this would look like. Take action that will get you to a new level!
LEO: Keep the focus on your message and how to promote it. If you are a writer, write. If you are an actor, act. This is a day to create your heart's desire. Let your art be an act of the heart today. Be fearless as you pursue your creative bliss. Trust that doors will open to support your heart's desire.
VIRGO: Explore how to individuate on the fiscal front. This is a great day to explore which resources you want to share, and which resources you want in your name alone. Explore how technology and crowd funding could play an important part in evolving your connection to profit and abundance.
LIBRA: The Moon is cruising through your partnership sector where she joins mighty Uranus, the planet of liberation. Your relationships are evolving. Be willing to get to higher ground in your partnerships. Let your Higher Self guide your interactions. If you love someone…Set them free…
SCORPIO: It's a very productive day on the work front. Refine your skills today. Explore an entirely new approach to your daily work and your health. Explore how innovation and technology can help you streamline your approach to your daily work. Focus on being of maximum service and watch success beat a path to your door.
SAGITTARIUS: Take action on the creative front today Sagittarius. Be the fearless artist you want to see in the world. It takes courage to create, and even more to release your creations into the world. Today the planets are strengthening your heart and your resolve to be brave on the creative front.
CAPRICORN: Way deep down you are changing and awakening. Today the evolution continues at your roots and on the home front. Explore what needs to evolve at home. What would conscious parenting look like? How can your home life support your authentic liberated self?
AQUARIUS: It's another stellar day for communication. You are the voice of the Evolution, which is better than being a voice for the revolution. Today your words can help us spiral upward to a higher level. Keep principles and reason at the forefront of all your arguments. Be the voice of clarity.
PISCES: Begin the week with a new approach to finances. Explore new streams of income, and new attitudes towards abundance. Check in with your belly barometer when it comes to wealth and success. Write down any mixed feelings and fears you may have about wealth and success. Shred the paper when you are done!
SUNDAY JULY 24TH: The Pisces Moon goes void at 3:06 AM EDT till 8:33 AM EDT when it enters Aries, the sign of action. It's a great day for athletic activity, fitness and activism. Be the peaceful warrior you want to see in the world. Take a brave action to advance a cherished goal today. No guts No Glory.
ARIES: The Moon marches into your sign today, inspiring you to nurture yourself by taking action toward what you really desire. It's a great day for a work out or any activity that makes you feel fit and empowered. The Moon is also inspiring you to get some rest and relaxation.
TAURUS: Be the Zen Master you want to see in the world. The Moon is in your spiritual sector, in Aries, the sign of the warrior. Today explore right thought, right word, right action. Today what you do is less important than why and how you do it. Be motivated by love and a Higher Consciousness.
GEMINI: It's a stellar day for your social life Gemini. Make plans to enjoy the arts with your friends. Initiate or host a gathering. Marshall your social troops and have fun! It's a great day to gather together for a cause that is near to your heart.
CANCER: The Moon is cruising through your career sector, inspiring you to hit the ground running with regard to your career. Begin the week by taking nurturing and innovative action on the professional front. Be an administrative warrior today.
LEO: It's a stellar day to promote yourself Leo! Take fearless action on the creative front. Move ahead with your favorite writing, teaching and promotional projects. It's a great day to explore and express your philosophy. Fight for what you believe in. (non violently of course).
VIRGO: The Moon is wandering through the deepest sector of your chart inspiring you to face your fears and take courageous action in spite of them. It's a wonderful day to take action on the shared fiscal front. Advance business deals that could be mutually profitable.
LIBRA: It's an interesting day on the partnership front. The nurturing Moon and revolutionary Uranus are both in your partnership sector. It's a wonderful day to nurture relationships that are truly aligned with your liberated authentic self. Explore an entirely new kind of business or personal partnership.
SCORPIO: Begin the day with a clear focus on health and organization. Explore the mind, body, spirit, connection, as you take action to support the health of all three. It's a stellar day to really get organized. Have a place for everything, and everything in its place.
SAGITTARIUS: The Muses are calling. Answer their call. Its a great day to explore a museum (where the muses live) or a gallery. Take bold action on the creative front. Let the arts inspire you, then take to the page, stage or canvas of your choice, and do your creative thing!
CAPRICORN: The Moon is cruising through your home sector, inspiring you to do the same. Explore traditions that both liberate and nurture you. Explore different cultural approaches to home and parenting. Try something new at home. Be a nurturing pioneer.
AQUARIUS: Today your pen is your sword Aquarius. Cut through lies and confusion with sovereign reason. Be the clear voice of principle today. Avoid all pettiness and occupy the high ground instead. Explore how technology can help you broadcast to a wider audience.
PISCES: It's a great day to nurture both your self esteem and your bank account. Free yourself from limiting beliefs about money, abundance and success. Take an action to generate income. Take an action toward true prosperity. Feel the fear and do it anyway!