The Daily Planet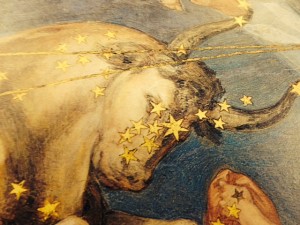 Click here to listen to Kacey on the Radio 02-22-15 Interview Demitra Vassiliadis about  Abraham Lincoln and the Age of Aquarius WHUD-Mixdown
The Sun enters patient, stable, constructive Taurus on April 19Th  inspiring us to get grounded and practical as we further our material goals. Taurus reminds us that matter is sacred. The word comes from mater, which means Mother. This month enjoy the beauty of our Mother Planet. Delight in your senses and the joy of embodiment. Enjoy the many forms of wealth in your life. Build your resources, plant your garden, enjoy simple pleasures. The Sun will leave Taurus and enter Gemini on May 20th. Mercury, the planet of thought and communication will go retrograde in Taurus on the 28th of April till the 22nd of May. During this time we are in a deep reflection regarding our true values. All wealth comes from Mother Earth. During this time we will be re evaluating our crucial relationship to our home planet.
Hear your Heaven to Earth Astrology weekdays at 6:45 am on"Mike & Kacey in the Morning" on 100.7  WHUD and www.whud.com Please know that you can also read my daily column on Facebook at Heaven to Earth Astrology's Facebook page. If you enjoy our column please like us on Facebook!
Thank you!
FRIDAY APRIL 29TH: Yesterday we began our Mercury retrograde journey of mental reflection. Today the Moon enters Aquarius in the wee hours at 4:47 AM EDT inspiring us to unite for humanitarian causes. Lovely Venus, the planet of Beauty and Love joins Mercury in Taurus…Today we reflect on who and what we love the most…Put your money where your love and values are!
ARIES: Reach out to your friends today. Share the ideas that you are reflecting on. Get feedback from your peeps. Explore new ideas around group financing. Think outside of the box as you admit what you truly want to build…and who you would like to share it with.
TAURUS: Lovely Venus, your ruling planet, enters your sign today, inspiring you to truly love and value yourself. Reflect on what that would look and feel like. Make a decision to practice unconditional loving kindness towards yourself. Reach out on the career front and connect with your growing network.
GEMINI: It's another great day for peace and quiet. You are a sign known for love of communication, but today silence is your friend. Deep intuitions are available as you listen for inner guidance. You deserve love and abundance….listen and know that this is true. Travel with friends today.
CANCER: Lovely Venus enters your social sector today. Reach out and reconnect with old friends and aquaintances. It's a wonderful day for networking and socializing. Assemble your creative team and reflect on the beauty you can create together.
LEO: Explore harmonious professional partnerships today. Lovely Venus pitches her beautiful tent in your career sector for the next few weeks. Rekindle professional relationships. Reflect on just how to build the beautiful career that you desire. It's a great day for creative partnerships.
VIRGO: It's a wonderful day to share your values beliefs and philosophy. Explore nature based presentations. Let beauty and sensuality be your messenger today. Let your senses guide you through the day. Today your work involves bringing people together.
LIBRA: Lovely Venus, your ruling planet enters your realm of deep sharing today.  Reflect on your inner and outer resources and how your would most like to share them. Abundant creative alliances may be resurrected. Your creativity and passion are your best calling cards today.
SCORPIO: Love is in the air today Scorpio. Venus begins a journey through your partnership sector today inspiring a reflection on love. You may reconnect with romantic or business partners from the past. Pull in, do some nesting as you contemplate your love life and how to make it blossom.
SAGITTARIUS: Work looks especially harmonious today. Delight in your daily work. Enjoy yourself and spread the good vibes with co workers. It's a great day to work on retrospective projects. Be the improvisational voice you want to hear in the world. Let art and music guide you through the day.
CAPRICORN: Art, play and creativity are calling today…Answer the call. Let your inner our outer child lead you back to innocence fun and simple pleasures. Reconnect with your senses. Love enters your your sector of art and children today. Feel the Love and express it.
AQUARIUS: The Moon is in your sign today inspiring you to feed your soul! Connect with like minded people and the causes that mean the most to you. Lovely Venus sets up housekeeping in your home sector for the next few weeks, inspiring you to do the same. Beautify your home and bedroom. Let love rule your roost.
PISCES: The goddess of Love and Beauty enters your mind today and inspires beautiful thoughts and ideas. Delight in the art of communication today, as you reach out to your increasingly loving community. Make time for reading and writing that inspires you and others!