The Daily Planet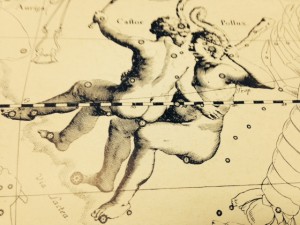 Click here to listen to Kacey on the Radio 02-22-15 Interview Demitra Vassiliadis about  Abraham Lincoln and the Age of Aquarius WHUD-Mixdown
The Sun enters Gemini, the quicksilver messenger on May 20th, shifting us into a month of mental exploration. Mercury, the ruler of Gemini stations direct on the 22nd and our reflective introspection ends as we slowly begin to put our revised plans into action. Mercury will be in Taurus for the remainder of May inspiring us to get grounded and practical as we further our material goals, and allow our revised values to inform our actions. Mercury enters Gemini on June 12th, and our thoughts accelerate as we explore a myriad of ideas and pursuits. With Saturn retrograde in Gemini's opposite sign, Sagittarius, our thoughts and words are weightier and more consequential this month. We are all asked to be responsible administrators of our world. Lovely Venus enters Gemini on the 24th, and our thoughts and words are informed by beauty, harmony and love. The Sun leaves Gemini on June 20th, the summer solstice and enters soulful Cancer, sign of the Universal Mother.
Hear your Heaven to Earth Astrology weekdays at 6:45 am on"Mike & Kacey in the Morning" on 100.7  WHUD and www.whud.com Please know that you can also read my daily column on Facebook at Heaven to Earth Astrology's Facebook page. If you enjoy our column please like us on Facebook!
Thank you!
FRIDAY JUNE 24TH: Grandmother Moon goes void in Aquarius today at 11:48 AM EDT till late tonight at 10:30 PM EDT when she enters spiritual, imaginative Pisces. Take important actions before 11:48 AM EDT. Use the rest of the day to get centered around networking and social activities. Go with the flow. Let the day unfold and reveal her plan to you. Go with the flow.
ARIES: Make important decisions and take important networking actions first thing today. Practice mindfulness this afternoon. Take stock of networking and social efforts. Make lists. Tie up loose ends and check in with your gut when it comes to social matters. Be open to impromptu social plans.
TAURUS: Make important administrative decisions first thing this morning. Use the day to get centered on the administrative front. Pay bills, reflect on contracts and spreadsheets. Clear your desk for the weekend. Reflect on business collaborations. Check in with your legendary intuition.
GEMINI: It's another great day for an adventure. All days should really be viewed as an adventure, especially when the moon is cruising through your sector of travel and adventure as it is today. View your friends the same way. Drop all stories about the day and your friends and be open to new revelations.
CANCER: Grandmother Moon is diving through your house of intimacy and shared resources today, inspiring you to explore your deepest feelings. Here's the catch…today rather than holing up with your feelings, share them with a trusted friend….or for now reflect on who you feel safe sharing and being vulnerable with.
LEO: Take important actions on the partnership front this morning. The afternoon looks productive for a partnership vision quest. Ask your Higher Self to guide your thoughts and actions regarding business and personal partners. There is a Divine Plan of Goodness for all areas of your life including this one. Open to receive it!
VIRGO: Take important work actions first thing this morning. Use the rest of the day to create order and cleanliness at work or any environment that impacts your life. Creating order and clarity leads to success. Make time for health rituals that support your mental, physical and spiritual well being.
LIBRA: The Moon continues her playful romp through your creative and fun sector. Make important decisions and plans first thing this morning. Be ready to abandon plans after 11:48 AM EDT when the Moon goes void. Explore the peace that comes from going with the flow of the regenerative day!
SCORPIO: Make important decisions regarding home and family first thing this morning. After that get centered by focusing on housekeeping. As you clean and organize your home, notice how good it feels to be in a clean, clear, beautiful environment. Home is your social palace. Make it so!
SAGITTARIUS: Take care of important communication before 11:48 AM EDT. The afternoon looks good for feeding yourself mental inspiration. Reflect on your favorite geniuses of all time. For me that would include the Marx brothers, Gene Wilder and Abe the Babe Lincoln…Whose brilliance inspires you and sparks your own? Feed your unique brilliance today.
CAPRICORN: Keep the soulful fertile focus on your creative team. Explore collaborations for their social impact, and ability to generate major abundance. Think of the day as a fiscal and social vision quest. You are knitting a web of brilliant, talented, soulful, inspired collaborators with an inspiring abundant message…knit one…purl two…
AQUARIUS: Take important social and self care actions first thing today. Let the afternoon be devoted to letting things be, and going with the flow. Gravitate toward that with feeds your soul. Let yourself receive. Meander through the day in search of soulful vision and restoration. Relax. Recharge.
PISCES: It's another great day for your soulful social life. Spend meaningful time with friends doing absolutely nothing. Be open to serendipity. Let your weekend begin early by relaxing your attitude and rowing your inner boat gently down the stream….merrily…merrily…merrily…merrily life is a beautiful conscious Dream!