The Daily Planet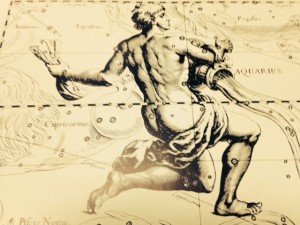 Click here to listen to Kacey on the Radio 02-22-15 Interview Demitra Vassiliadis about  Abraham Lincoln and the Age of Aquarius WHUD-Mixdown
The Sun enters humanitarian Aquarius on January 20th, illuminating our shared destiny as one Universal human race. This is a great month to delight in friendship and social connections. Aquarius, the sign of evolution and revolution leads us to new heights of  liberty, unity and justice for all. Explore your most inventive ideas this month. Work for the welfare of others. Connect with your higher mind. Mercury, the winged messenger, will enter Aquarius on February 13 inspiring a higher level of thinking. Lovely Venus will enter Aquarius on February 16th, inspiring Universal Love. The Sun leaves Aquarius on February 19th, when it enters visionary Pisces.
Hear your Heaven to Earth Astrology weekdays at 6:45 am on"Mike & Kacey in the Morning" on 100.7  WHUD and www.whud.com Please know that you can also read my daily column on Facebook at Heaven to Earth Astrology's Facebook page. If you enjoy our column please like us on Facebook! Thank you!
SUNDAY FEBRUARY 7TH: The Moon joins the Sun in evolutionary Aquarius just after midnight at 12:59 AM EST. Today the spirit of evolution is in the air. Make plans with friends. Gather with others for your favorite cause. Delight in your freedom. Release what has held you back from your authentic self. Tomorrow is the New Moon in Aquarius, bringing in a new tide of liberty, and authentic self expression.
ARIES: It's a great day for your social life. Make plans with friends. Gravitate to where the people are. Enjoy the company of humanity. It's a great day to attend an event that supports your favorite cause. Help someone in real need today. Build your social network.
TAURUS: Even though it's the weekend, today the spotlight is on your career. Mix business and pleasure today. It is an especially good day to network for your career. Tomorrow is the New Moon in your career sector. Release what hasn't been working on this front as you prepare for what is!
GEMINI: It's a great day for all forms of travel, and today it's best to travel with your friends. Take a class, go on a road trip or travel philosophically. Connect with your friendship network and delight in your caravan of fellowship. Reflect on your cherished ideals.
CANCER: It's a great day to spend with your partner, or your most intimate friends. Explore how your freedom enhances your intimate life and vice versa. Delight in the healthy space between you and others that allows for real connection. Spend time on shared resources today.
LEO: The Sun and Moon are shining in your partnership sector today, preparing you for tomorrow's New Moon in this sector. Let the ghost of relationships past help you release all that has not served you in this realm. Tomorrow's New Moon, brings the spirit of relationships present, to update your approach to relationships.
VIRGO: It's a stellar day for health, fitness and organization. Delight in group activities that foster your sense of well being. Try taking class that you have always wanted to take. Clean and clear your environment in preparation for the New Moon. Out with stale energy. Make room for an entirely new breeze.
LIBRA: Let the fun and games begin Libra. Delight in joyful activities with your inner or outer children. Have fun at concerts, the theater or sporting events. Be daring and experimental on the creative front. Connect with your creative cohorts and dream up creative mayhem.
SCORPIO: The Moon has joined the Sun in your home and family sector preparing you for tomorrow's New Moon. Let the Feng Shui begin. See just how much you can clean and declutter your home. Tomorrow begins a whole new cycle on the home front. Make a list of all family patterns you are willing to release, then ceremonially shred it.
SAGITTARIUS: Let a liberating breeze blow through your mind today, dislodging all that has kept you mentally bound. Imagine a mental whirlwind blowing through your mind and soul taking all negative and self defeating ideas and belief systems. Take note of any aha! moments today.
AQUARIUS: The Sun and Moon are both in your sign today, shedding light on your personality and your soul. Jettison all that has held you back from your calling and your bliss. Write down the feelings that hold you back. It is always a feeling that holds us back. Be willing to release it. Tomorrow the New Moon in your sign begins a New cycle of letting yourself Shine.
PISCES: The Moon is in your spiritual sector inspiring you to connect with soul friends. Gather with close friends and do some meditation together. Do a little release ceremony together. Write down what you want to release before tomorrows New Moon, then take it to a body of water and let it go!