The Daily Planet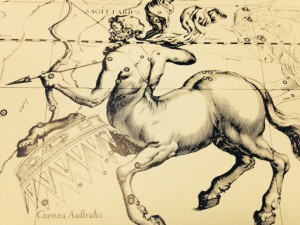 Click here to listen to Kacey on the Radio 02-22-15 Interview Demitra Vassiliadis about  Abraham Lincoln and the Age of Aquarius WHUD-Mixdown
The Sun entered wise, adventurous Sagittarius on November 22nd and will complete its passage through the sign on December 21st the winter solstice, when it enters Capricorn, the sign of achievement and sacrifice. The Sun joins Saturn, the planet of responsibility and consequences which will be transiting Sagittarius for the next 2 years. We are being tasked with exploring responsible multicultural solutions to the grave environmental, social, corporate and political problems we are facing. Sagittarius inspires ur to seek higher learning and explore wisdom and how to apply it. Navigate with gratitude and generosity of spirit this month. Sagittarius reminds us: Life is a journey, enjoy it.
Hear your Heaven to Earth Astrology weekdays at 6:45 am on"Mike & Kacey in the Morning" on 100.7  WHUD and www.whud.com Please know that you can also read my daily column on Facebook at Heaven to Earth Astrology's Facebook page. If you enjoy our column please like us on Facebook! Thank you!

FRIDAY NOVEMBER 27TH: The Gemini moon is void till this afternoon at 2:27 PM EDT. Use the morning to get mentally and emotionally centered. The best way to do this is through some meditative practice. Try to avoid important decisions or purchases till after 2:27 PM EDT when the Moon enters nurturing Cancer. Pursue activities that comfort and feed your soul.
ARIES: Silence is golden this morning. Listen for the still small voice of intuitive guidance. Avoid signing contracts or making big decisions or purchases till after 2:27 PM EDT. The Moon cruises into your home sector this afternoon inspiring you to kick back and make cozy time at home with family.
TAURUS: Use the morning to get emotionally centered and the afternoon to communicate with family. You have the silver tongue of nurturing kindness today, use it to build closeness with friends and family. Explore ideas that involve interconnectedness. Feel and share your feelings.
GEMINI: Take it easy this morning. Go with the flow and relax. This afternoon the Moon cruises into your fiscal sector in the sign of home and food, making it a great day to hit the farmers market or do some nesting. It's a good day to plan purchases for your home.
CANCER: Spend the morning communing with peace and quiet. Release negative thoughts and old feelings. This afternoon the moon sails into your sign inspiring you to explore soul food on all levels. Begin the weekend early. Enjoy nesting, leftovers, and extreme coziness.
LEO: Contemplate your social plans this morning. Reflect on how to move networking plans forward. This afternoon the Moon moves into your spiritual sector and it is time to cultivate stillness and spiritual connection. Spend time at home or near water. It's time to relax and recharge.
VIRGO: Spend the morning with administrative housekeeping and the afternoon with lovely social plans. Enjoy both your personal and professional connections. Delight in your social life. Break bread with your buddies today. Enjoy the give and take of support.
LIBRA: Let your mind unspool this morning. Enjoy a relaxed philosophical reverie. This afternoon the Moon moves into your career sector, and you are out in the public spotlight. You may be called upon to nurture others and play hostess today. Reflect on your long term plans today.
SCORPIO: The moon will be cruising out of the depths and into the heights of your chart today. Use the morning to explore what emotional issues surfaced for you in the past few days. This afternoon you get some much needed perspective on things. Explore and delight in ideas that bring you comfort. Be a voice of reassurance for others today.
SAGITTARIUS: Get clear about the structure of partnerships this morning. Reflect on contracts and budgets. In your personal life explore the give and take of your relationship. This afternoon, the Moon dives into your house of deepest sharing and it's time to explore the power of vulnerability.
CAPRICORN: Spend the morning on health routines. Start your day with a workout and meditation. Create order and clarity at work and home. Clean up, get organized declutter. This afternoon the Moon cruises into your partnership sector and it's time to focus on business and personal partnerships'
AQUARIUS: Wrap up creative brainstorming for now. This afternoon it may be time to work on the nuts and bolts of what you have been dreaming up. Devote some time to honing your skill and being of service to others. Get organized. Order fosters success.
PISCES: Spend the morning cocooning at home. Be circumspect in thought and word. This afternoon the Moon cruises into your leisure sector and it's time of unwind. Begin your weekend on a wave of soulful gratitude. Be gentle and kind with yourself. Make time for your inner child. Enjoy.
THURSDAY NOVEMBER 26TH: Happy Thanksgiving To One and All!  Today the Gemini Moon inspires us to be messengers of gratitude, comfort and generosity. Today we give thanks for our lives. We get to be part of this gorgeous passion play that is life with all its ups and downs…Life is beautiful and miraculous. I am so happy and grateful to be walking the path with you…
Infinite Blessings to All…Thank you to the Infinite Spirit of the Universe…..for Everything!!!!
and a special thank you to Mike and Kacey of WHUD today! Thanks for being the voices of gratitude on the air for us today!  The Gemini Moon goes void at 10:35 PM EDT tonight…
ARIES: Enjoy philosophical conversation at the Thanksgiving table today. Enjoy exploring ideas and philosophies that truly deepen your sense of gratitude. Dare to share your heart, mind and feelings with friends and family who feel safe and receptive. Be a messenger of hope and charity today.
TAURUS: Enjoy creature comforts today. Spend time and money doing what you enjoy and value most. It's a good day for partnerships. Keep the focus on your feelings, but be restrained in how you communicate them. Continue mulling over financial ideas and arrangements.
GEMINI: The Moon is in your sign today. Explore a multicultural Thanksgiving. Explore the Native American origin of this holiday. It's a great day to nurture yourself and others. If you are hosting, get help with clean up. Take some time to really relax and restore today.
CANCER: Thanksgiving is truly spiritual for you this year. The Moon is gliding through your spiritual sector today connecting you to the divine and your ancestors. Begin your day with a deep meditation on gratitude.  Be the true voice and presence of gratitude all day long. Notice how good this feels.
LEO: It's a beautifully social Thanksgiving. Reach out today and pour gratitude on your friendship network. Make it a point to share your love with friends. Silently and audibly give thanks for their presence in your life. Think about what you can dream up with friends.
VIRGO: You shine at your job today. Be grateful for your public presence in the world. The Moon glides through your professional sector inspiring you to use your executive skills to organize a beautiful holiday. Enjoy a healthy organic holiday, but don't go too nuts about the details.
LIBRA: Explore new ideas and different cultural approaches to the holiday. It's a good day to enjoy the journey as much as the destination. Drive mindfully and joyfully toward gratitude. Think about making a donation today to those who need help. Explore how other tribes and nations give thanks.
SCORPIO: The Moon is in your deepest sector for Thanksgiving, inspiring you to send blessings of gratitude to your ancestors today. Explore your deepest feelings and a new self esteem that is blossoming in your life. Give thanks for people in your life with whom you can share deeply and honestly.
SAGITTARIUS: Delight in your marriage or partnership today. Feel and express gratitude for your sustaining relationships. Take the time to nurture your relationship. Try feeding each other a spoonful of food or desert, as is done at weddings. Convey symbolically your willingness to nurture your mate.
CAPRICORN: Rejoice in your health and your spiritual practice today. Give thanks to the many helping hands who help your life to function. Today the Moon is in your service sector, inspiring you to be grateful for your ability to serve others and their ability to serve you. Lend a hand with the festivities.
AQUARIUS: Be thankful for your talent, and express that gratitude in joyful acts of self expression today. Hang with your homies, and enjoy dreaming up delightful collaborations. Try sharing your creativity with friends and family. Make music together. Enjoy poetry….or humor…
PISCES: The Moon is in your house of home, making this a perfect day to be home with your family. Give thanks for your family no matter how whacky they are. Send some blessings out to loved ones on the other side of the veil. Enjoy cozy, nesting comfort. Don't worry. Be happy…and grateful….