The Daily Planet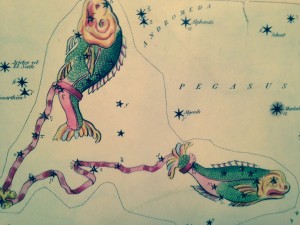 You can hear HEAVEN TO EARTH ASTROLOGY weekdays at 6:45 AM. Tune in to Mike and Kacey in the Morning at 100.7 FM WHUD serving Westchester and The Hudson Valley.
Click here to listen to Kacey on the Radio 02-22-15 Interview's Demitra Vassiliadis about Aquarian Evening of Abraham Lincoln WHUD-Mixdown
The sun is in PISCES till March 20th, the vernal Equinox. We are inspired to awaken to our oneness with all creatures. We are inspired to seek a higher love, practice compassion, empathy and remember our own sacredness and the sacredness of All Life. Explore healing through music, dance poetry and art. Flow like water. Blessings of deep Peace to you.
TUESDAY MARCH 3RD: The Moon goes void in Luminous Leo at 3:48 AM EST encouraging us to get centered with respect to our art and matters of the heart.
ARIES: It is another good day for your creativity. Be centered and meditative on the page on the stage or with your kids. Bring focus and attention to your creativity. You are awakening like never before. What does your authentic self most want to create?
TAURUS: Mull over matters of home family and child rearing. Contemplate new approaches you could try to make home more creative and fun for you and your family. Reflect on creative projects that you could profitably collaborate on.
GEMINI: Mull over your message. Avoid dramatic outbursts. The potential for drama is high today. It is always best to save it for the page or the stage. On that note, it is a good day for rewrites and continuing to develop your creative message.
CANCER: Get centered around the financial side of creative projects today. Your career is fueled and ready for take off. Today, get your finances in order so they support all that you are poised to accomplish.
LEO:  Continue working on your art today, but also make time for self care. This is a great day to wander around a museum or gallery in search of the Muse who really makes your heart beat. Be honest with yourself. Admit your hearts true creative desire.
VIRGO:  It is a great day to get centered but in a wild and wonderful way. Today take a run in nature, dance around a bonfire. Put on music and dance around your home. Today movement and expression connect you to the Source. In a magical sacred way, heed the call of the wild today.
LIBRA: Take a pause as you contemplate the most soulful social connections in your life these days. What luminous magic would you most like to dream up and with whom? Today give some thought as to who could help you expand your creative reach.
SCORPIO: You are loving your work these days. You are becoming a zen master at the altar of daily service. With this attitude you cannot fail. Today as you look upward to your long term goals, ask yourself how you can deploy your new skills and energy to achieve them.
SAGITTARIUS: Keep your pedal to the metal when it comes to your creativity. Well I guess you can ease up on speed, but the point is keep going. You can edit later. Today just get it out on the page. Try to get in the zone with your creativity. Be a channel, maybe let the Muse drive.
CAPRICORN: Keep a soft contemplative focus on issues of shared finances, shared resources and all forms of meaningful sharing. Today ask your heart how you are feeling about these issues. What feelings would you like to express.What would you like to share or collaborate on. Mull it over.
AQUARIUS: It's a lovely day to give some emotional attention to your partnerships both business and personal. Check in with your partner, or simply be emotionally present. Notice what is needed. Notice how you can respond. Also dare to ask for what you want. You have to know what you want first.
PISCES: Let your work feed your heart today. Enjoy the creativity of what you do. Make time for health routines that keep you sparkling. Your capacity to give and express love is growing by leaps and bounds. Be the generous lantern of love you want to see in the world.
MONDAY MARCH 2ND: The Moon is in fiery Leo today encouraging us to be flamboyant and expressive but not egotistical. Live from your heart not your ego today. Dare to be vulnerable.
ARIES: Its a wonderful day to manifest your considerable creative powers. It is also a wonderful day for love and romance. Today nurture the projects closest to your heart. Today be the true love you want to see in the world. Today take one action on behalf of others.
TAURUS: There is a lot going on but today most of it is internal. Way deep down you are in the midst of a creative expansion. In your soul you are going through a major awakening. Today as you go through your day ask yourself what love aligned with your deepest spiritual beliefs would look like.
GEMINI: You spent the weekend metaphorically curled up in a state of reflection, today you have something to say. Be brave, generous and loving as you dare to express yourself in artistic, flamboyant ways. Art is an act of love. Let the loving begin!
CANCER: Your creativity is a veritable gold mine these days. Today develop your talent and your craft. Tend to your most cherished projects and their budgets. Your career is taking lovely leaps this month. Today by advancing your art you advance everything.
LEO: It is as though trumpets and fanfare encourage you to write, draw, and perform today. Your inner army is fully deployed to support your creativity today. Be a maverick. Work on something original, remember no guts no glory!
VIRGO: You are a radiant beacon of love today. As you shine this generous energy today, all negativity is immediately transformed. Love is your shield today. Make some time for creativity like dance or sketching to recharge your battery.
LIBRA: A stellar day for networking Libra. Reach out far and wide to your creative flamboyant friends. Initiate new partnerships with mavericks and pioneers. You are poised to take a creative leap . Today put in the footwork both on the creative front and the networking front.
SCORPIO: Your career is in the spotlight today. There is a doorway opening involving your daily work, your growing income and the larger career trajectory that you are interested in. Today in some small way take an action toward where you want to be in 3 5 years. Symbolically, begin doing that activity today.
SAGITTARIUS: Your creativity is a Supernova rocketing through the stratosphere of your consciousness today. Get to work especially on writing or communication projects. Be the hunka chunka burning creative love you wanna see in the world.
CAPRICORN: It is a wonderful day to collaborate with others. It is a wonderful day to pool your creative gold. It is a wonderful day to go deep and excavate a vein of creativity that you have yet to mine.Today creatively explore the depths.
AQUARIUS: Spend the day nurturing the flame of your partnership. Wonderful expansion is coming to you these days through partnership. Reach out and connect today. Spend time together dreaming up wonderful projects or passionate connection. It's time for two.
PISCES: Your work these days is all about play. Let yourself shine as you express your joyful creativity. Delight in art, performance and any form of self expression. A big work opportunity will be coming your way. Continue preparing the soil for it.