The Daily Planet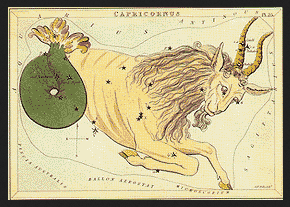 The Sun enters responsible Capricorn, the sign of elders and wise concern for future generations, on December 21st and will remain in Capricorn till January 21st when it enters egalitarian Aquarius. The New Moon in Capricorn conjunct Mercury retrograde occurs on December 29th and begins the lunar cycle that will usher us into the New Year. January of 2017 begins with Mercury inspiring us to reflect, rethink and reverse executive decisions this month. Rethink your business plans and your long term goals. Set goals that are aligned with your sacred purpose. Reflect on what you are willing to sacrifice to achieve your heart's desire. Explore what you are willing to sacrifice for the Greater Good of the world. Be the responsible executive consciousness you want to see in the world.

Heaven to Earth Astrology by Demitra Vassiliadis www.heaventoearthastrology.com Read your daily forecast below:
THE DAILY PLANET ~  TUESDAY JANUARY 17TH: The Virgo Moon goes void an hour after midnight at 1:09 AM EDT till 6:16 AM EDT when she enters lovely Libra, the sign of Beauty and Justice. Libra, the sign of partnership reminds us that our relationships work best when they are aligned with Beauty and Justice. It's a great day to bring yourself and your relationships into balance. Seek to be fair, and harmony will follow. You may need to speak up if you feel that you or others are not being treated fairly. Today grandmother Moon is carrying the scales of Justice, inspiring us all to do the same.
ARIES: The gracious Moon is blessing your partnership sector today, fertilizing all of your relationships. Mighty Jupiter has pitched his sumptuous tent in this sector  till October, bringing, luck, good fortune and opportunity to business and personal partnerships. Tend the relationships that you are growing.
TAURUS: It's a lovely day for tending to your health and work life. Begin the day with mind/body/spirit practices. Today let inner and outer harmony and balance be your aim. It's a great day to foster harmony in work relationships and partnerships. Advance projects involving art, beauty and justice today.
GEMINI: The Moon is cruising through your sector of creativity today, inspiring you to delight in the beauty of art and culture. It's a great day to explore your own desire for exquisite self expression. Let Beauty be your guide today. Seek her and find her everywhere. Follow her from delight to delight…
CANCER: Today explore the dynamic tension between self and partnership. Feed your soul today and also feed the soul of your family. It's a great day to create beauty and sweet harmony on the home front. It's a great day to advance family partnerships. It's a lovely night for a family date.
LEO: You are the artful voice of justice today Leo. You are a sign known for drama, but today, cultivate restraint and the measured voice of diplomacy. It's a fantastic day for art, self expression and the beauty of ornamentation. The Muses are dancing around you…Dance with them.
VIRGO: Grandmother Moon is visiting your fiscal sector carrying the scales of justice. It's a great day to explore the fairness of your fiscal arrangements. Today explore the give and take, profit margins and overall balance or lack thereof in your fiscal and romantic partnerships. Today make balancing adjustments.
LIBRA: You are ruled by lovely Venus, Libra, but today grandmother Moon furthers your cause. She is nurturing you by surrounding you with her protective  maternal cocoon and nourishing you with the beauty that always restores your soul. Surround yourself with all forms of beauty today. Speak up for the vulnerable in need of justice. Cultivate inner peace as you gear up to fight for Beauty.
SCORPIO: Grandmother Moon is doing balancing yoga in your inner ashram inspiring you to do the same. It's a great day for any type of devotional practice that harmonizes body/mind and spirit. You are ruled by Mars, the planet of action and war, but today Grandmother Moon inspires you to be a spiritual warrior of peace. Today the battle is won by surrendering….to the Source.
SAGITTARIUS: It's a wonderful day for your social life Sagittarius. Explore networking possibilities for both business and pleasure. Delight in your social skills. Find graceful ways of saying both yes and no to fiscal collaborations. Make time for your friends and your social life today.
CAPRICORN: Career partnerships are calling today mighty Capricorn. You are scaling the mountain of your cherished ambition this month, but you are not climbing alone. Today explore just who you are trusting to have your back and make beautiful music with you over the long climb. Advance your beautiful goals.
AQUARIUS: The gracious Moon is your traveling companion today. Her nurturing lantern lights your path, guiding you to harmonious and creative partnerships. Today you are on a journey to both teach and learn. Learn from the masters of peace and the spoken word like MLK…teach what you already know in a way that others can receive and understand.
PISCES: Dive deep today Pisces, and if you can, dive with your most deeply trusted fellow dolphins. It's a beautiful day to deepen your connections. Share your feelings and yourself with those you love and trust. Take a risk. Be vulnerable. In business explore the nuts and bolts of fiscal and creative collaboration.
THE DAILY PLANET ~ MONDAY JANUARY 16TH: Blessings of Sacred Remembrance to All on Martin Luther King Jr. Day. Today we pause to remember the extraordinary life of service rendered by Reverend King, who gave the last full measure of devotion, that we all might live in a just land. As Grandmother Moon moves through Virgo, the sign of Service, may we find the courage to follow in his   amazing footsteps till racial and economic justice prevail all across our country and indeed the world. It's a beautiful day to explore your own relationship to service. Give thought to how your skills can best be used to help others or a larger cause. Explore creating greater efficiency in your life so you have more time to devote to your calling. Take a secret action today to benefit someone. Let your Higher Self guide you to take at least one loving act of service and devotion. Be the Angel you want to see performing generous, kind, loving miracles in the world! Reverend King said " Darkness cannot drive out the darkness…only Light can do that"…. Be that Light today.
ARIES: The Moon is cruising through your sector of work, health and service once again today, inspiring you to focus on the joy of a small task well done. It's the little moments of attention, engagement and bliss that make up a good life. Focus on the present as you plan for success. Be a secret angel of service and devotion today. Help someone in real need.
TAURUS: It's another great day to focus on rest and regeneration. While you are resting allow yourself to contemplate the most brilliant ways to use your artful creativity to serve others or the greater good. Devote your creativity to something greater than yourself today. Make meaningful art today.
GEMINI: The Moon is cruising through your sector of home today, inspiring you to heal your connection to your roots. It's a great day to jettison dysfunctional ancestral beliefs. Allow yourself to write a new script of beliefs as you tidy and clear your home environment. Home is your temple today. Invite the Angels in.
CANCER: The Moon continues her journey through your mind, inspiring you to seek out the wisdom of your Higher Mind. Make time for meditation and mental inspiration. You can do no better than to listen to the speeches of Reverend King on this day of remembrance. Feed your mind and soul the inspiration it craves. Banish worry and drink in courage.
LEO: Grandmother Moon is cruising through your sector of values asking you to reflect on your cherished values and what practical actions you are willing to take to achieve them. It's a great day to send a donation to a cherished cause and contemplate what you are willing to sacrifice on behalf of others.
VIRGO: The Moon is cruising through your sign again today, inspiring you to keep the focus on self care. You are the sign of selfless service to others, but today explore how to serve your cherished long term goals. Every journey occurs one step at a time. What step can you take today toward your soul's true yearning.
LIBRA: The Moon continues to feed your soul spiritual mana today. It's a perfect day to steep yourself in the words and teachings of Reverend King, one of the greatest spiritual leaders that our country and the world, ever produced. Explore the tenets of non violence today, it is your weapon of choice Libra, so beautifully deployed by the King of the Mountain.
SCORPIO: Make time for friends today, Scorpio. It's a perfect day to nourish your soul by connecting with the healing power of friendship. We are all in this together. Today seek out connection with your soul tribe. Delight in the company of people who love you as you are. Consider attending an event to honor MLK with your community.
SAGITTARIUS: It's a perfect day for reviewing your long term plans and the Sacred Mountain of your life's calling. Reflect today on what the mountain top is for you. How would you know that you have arrived? Along with the worldly successes, explore your highest sense of spiritual service and devotion.
CAPRICORN: Grandmother Moon is cruising through your travel sector of higher learning and cultural meaning, Capricorn. Today she travels with you on the highways and byways of your inner and outer journey inspiring reflection on how and what you are meant to serve. You are the sign of great sacrifice, and today your fellow Capricorn MLK junior reminds us that nothing worth achieving occurs without it.
AQUARIUS: Grandmother Moon is traveling to the depths of your soul again today, shedding Light on your deepest sense of service. Dive with her, Mighty Aquarius. You were built to serve humanity. Today get clear on just how and by what means you will devote yourself to your fellow humans and their liberation. My deep gratitude in advance, for all that I know you will accomplish.
PISCES: The gracious Moon is dancing with you and nurturing you again today through partnerships Pisces. Enjoy nurturing and being nurtured by the people closest to you. Delight in the give and take, ebb and flow of the dance of mutuality. Enjoy giving in conscious acts of service. Enjoy receiving the many forms of caring that express sweet love.