The Daily Planet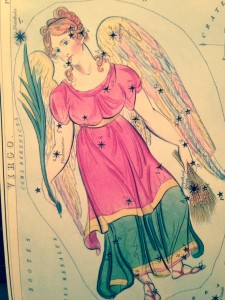 Click here to listen to Kacey on the Radio 02-22-15 Interview Demitra Vassiliadis about  Abraham Lincoln and the Age of Aquarius WHUD-Mixdown
The Sun enters Virgo, the sign of the Goddess of the earth and organic agriculture on August 23RD. It joins mighty Jupiter and Mercury ushering in a year of major opportunity for Virgo's which began on August 11th when Jupiter entered Virgo. This month we can productively focus on health and nutrition, analysis, service and devotion. This month nature is both our teacher and our temple. It's a great month for decluttering and getting organized. Declutter your mind, body and spirit. The Sun leaves Virgo and enters Libra on September 23Rd marking the autumnal equinox.
Hear your Heaven to Earth Astrology weekdays at 6:45 am on"Mike & Kacey in the Morning" on 100.7  WHUD and www.whud.com Please know that you can also read my daily column on Facebook at Heaven to Earth Astrology's Facebook page. If you enjoy our column please like us on Facebook! Thank you!

www.heaventoearthastrology.com Hear Heaven to Earth Astrology 6:45 am on 100.7 WHUD & www.whud.com. Read your daily forecast below!
SATURDAY SEPTEMBER 5TH: A happy and restful Labor Day weekend to all! The Moon continues her journey through Gemini inspiring us to enjoy the exchange of ideas. It's a great day to explore a variety of leisure activities and forms of relaxation. Take a mental vacation from all forms of worry. Just for today relax and trust.
ARIES: The Moon is wandering through your communication sector, inspiring you to do the same. Kick back and enjoy yourself. Make time for fun and creativity. It's a great day for writing and playful communication.Work on several projects. Enjoy artistic exploration.
TAURUS: Today spend money on what really feeds your soul. If you love the ocean, drive to the beach. If you love live music, go hear some. Treat yourself to a variety of activities that delight you. Today take many little actions that nurture your self esteem. Pamper yourself.
GEMINI: The Moon is in your sign today inspiring you to mother yourself. For you this means feeding yourself your favorite literature, ideas and information. I recommend looking through catalogues for nesting/home furnishing ideas. It's a great month to feather your nest.
CANCER: Be mentally vigilant in a lovely nurturing way today. Choose your thoughts, with loving care today. Pick a positive mental focus, and see how often you can return to it. The Moon is in your spiritual sector surrounding you with moonbeams of love and support. Feel the love, especially of your female ancestors…
LEO: Enjoy the loving support of your friendship network today. Reach out to as many of your friends as possible. Give and receive love and appreciation. Share your hopes, fears and dreams. Everything is easier with loving support. Make time for your peeps.
VIRGO: Even though it's Labor Day weekend, it would be wise to give some thought to your career. While you are relaxing, reflect on ideas and goals that could be fulfilling and profitable. Let your mind meander here and there like a lazy sea. Let the mental current take you to that which inspires.
LIBRA: It's a great day for a journey of the mind. Allow yourself to mentally motor down highways and byways that nourish your soul. Refuse to engage in any negativity whatsoever. Instead let your higher self direct all your thinking, reminding you that right now you are beautifully provided for.
SCORPIO: The Moon continues through your house of deepest feeling, bringing up old patterns for transformation. Do a little journaling. Bring your feelings to light. Get them out of the depths and onto the page. Call a close friend and share. A problem shared is a problem halved.
SAGITTARIUS: The moon is cruising through your partnership sector inviting you to explore a variety of delights with your beloved. Exchange ideas. Enjoy entertainment. Lighten up with playful banter and the pleasurable meeting of the minds. Be curious about your partner.
CAPRICORN: The Moon is wandering through your health sector inspiring you to use the day to restore your body, mind, and spirit. Enjoy a smorgasbord of activities that bring you back to yourself. Do a little exercise, eat some healthy food,. Do some lounging, puttering, resting and chit chatting.
AQUARIUS: The artful play continues today. Be on a creative treasure hunt. Explore music, poetry, dance and literature. Reach out to your compadres and run some ideas by them. Easy breezy collaboration is the name of the game. Enjoy!
PISCES: Spend part of the day in your home sweet home. It's another stellar day to nest a little, rest a little. While you are relaxing, reflect on your message and your communication skills. Let your mind flit here and there, drinking the honey of mental inspiration…Enjoy your partners company.