The Daily Planet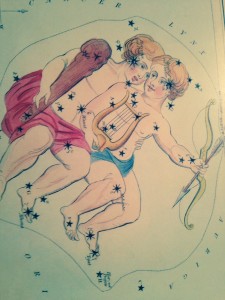 Click here to listen to Kacey on the Radio 02-22-15 Interview Demitra Vassiliadis about  Abraham Lincoln and the Age of Aquarius WHUD-Mixdown
The sun entered quick thinking Gemini on May 21st, inspiring us to be mindful as we explore our thoughts and the realm of ideas. Mercury, the planetary ruler of Gemini went retrograde on May 18th till June 11th  Use the retrograde period to reflect, rethink, rewrite, revise and reconnect. Unless you are renegotiating, avoid signing contracts or buying communication equipment. This is a great month for meditation and deep mindfulness.
Hear your Heaven to Earth Astrology weekdays at 6:45 am on"Mike & Kacey in the Morning" on 100.7  WHUD and www.whud.com Please know that you can also read my daily column on Facebook at Heaven to Earth Astrology's Facebook page. If you enjoy our column please like us on Facebook! Thank you!

THURSDAY MAY 28TH: The Moon is in peace loving Libra today, inspiring us to create balance in our lives as we cultivate beauty and fairness.
ARIES: The Moon has cruised into your partnership sector today, inspiring you to make lovely time for the important relationships in your life. Enjoy the trappings of romance that brings out the sweetness between partners. This is also a great day to reach out with lovely gestures to business partners.
TAURUS: It's a great day for team building at work. While Mercury is still retrograde, recalibrate your work relationships. Today explore how to cultivate harmony at work. Notice what feels fair and what does not. Reflect on what adjustments need to be made. It's a great day to network.
GEMINI: It's a great day to explore the fine art of event planning and social interaction. The Moon is cruising through your leisure section, inspiring you to reach out and connect at lovely locations and events. Your social life is changing. Today enjoy beauty and the arts with friends.
CANCER: Begin your day with quiet time at home. Today your home is where you achieve peace and balance. Even a few minutes at home tidying up and creating little pockets of beauty can do wonders. On the career front, use your deep sense of grace to reach out and reconnect with business contacts.
LEO: Revisit creative writing today. Reflect on communication. It is a perfect day to resurrect old projects especially involving the arts, poetry, lyrics and all forms of communication. It's a great day to reach out graciously and diplomatically to ask for help with promotion and collaboration.
VIRGO: Explore or revisit financial partnerships today. Reflect on potential partnerships that could be mutually beneficial. You are in the midst of a major career retrospective. Today review your past approach to both career and partnership. What would you like to do different this time.
LIBRA: The Moon in your sign today inspires you to pull out the stops and really nurture yourself. For you this means surround yourself with exquisite beauty, reach out to delightful friends and cultivate inner peace. Continue working on communication projects. Today work on the beauty of presentation.
SCORPIO: The Moon has entered your inner temple inspiring you to do the same. Be like a Zen Master or a martial artist today. Focus on the art and beauty of every action and every little task. Seek poise in all that you do. Connect with the Beloved within.
SAGITTARIUS: Lean on your friends today. Let them bring you back to peace and balance. Friendship is the beautiful focus of your personal life today. Gracious networking is the focus of your professional life. Treat everyone at work with grace and consideration. Feel harmony and prosperity begin to flow like nectar.
CAPRICORN: It's a great day to focus on professional partnerships. Spend time with business partners bonding and collaborating. Have a lovely lunch together. Today mix business with  pleasure. In fact spend some time today reflecting on how your entire approach to work could be more pleasurable.
AQUARIUS:  It's a great day to rework presentations and curriculum. It's a great day to analyze your philosophy in general. What is important to you? What for you is the meaning of life? Today come up with a philosophical approach to love, partnerships and fairness.
PISCES: Take the plunge and get deep with your closest companions. This is a day to be vulnerable with your spouse or partner. It's a wonderful day to have discussions about finance and general fairness within the relationship. Today's Libra Moon will give you both grace and detachment to approach difficult subjects.
WEDNESDAY MAY 27TH: The Moon is void in organizational Virgo till  5:42 PM EDT this evening, when it enters justice oriented Libra. The Moon is void in a mercurial sign, while Mercury is retrograde in Gemini, the other mercurial sign. This is a day to really practice mindfulness. Avoid multitasking. Be especially mindful behind the wheel. Practice restraint of tongue and pen. The evening looks great for social plans.
ARIES: Organize the details of your work today. Tie up loose ends. Make lists regarding follow up. Clean up your work environment as you revise and edit any writing. It's all in the details today as you finish up every little task begun over the past two days.
TAURUS: It's a great day to reflect on how creative projects can enhance your career. These days you are surrounded by visionaries. Today as you reflect on the Big Picture, contemplate the tiny practical steps you could take to achieve it.
GEMINI: Pull in and get your house in order on all levels today. Be restrained and mindful in all communication. It's a great day to journal about family of origin issues. Take action to make your home more nurturing.
CANCER: Silence is golden today. Refrain from hasty speech. It's a great day for inward focus. Notice how much energy is conserved by refraining from speaking. It's a stellar day for rewrites and revisions. Contemplate renegotiations but do not discuss this today. Simply reflect.
LEO: Tie up loose financial details today Leo. Balance the books. Work on projections. Analyze your income and spending. Today take note of where your money goes and where it comes from. Reflect on new streams of revenue as you adjust your spending to reflect your real needs and true wants.
VIRGO: Use the day to replenish your energy. Pull in and continue to take care of yourself. Take stock of work details that require your attention. Cocoon yourself as much as possible. Double check details regarding schedule and communication. Reach out to nurturing friends.
LIBRA: Tap in to the Source. Continue to navigate the day using your spiritual guidance system. Ask for guidance with every little thing and watch the miraculous occur. You are supported from behind the scenes today. You can be of service behind the scenes as well. Use your skill to inspire others today.
SCORPIO: Reflect on your social network today. It has been said that happy, healthy people have about 5 people that they are very close to. Contemplate how to grow your network today. In order to have a friend, be a friend.
SAGITTARIUS: Get centered around your career today. Organize administrative details. Take stock of what in your approach to your career needs fine tuning or adjusting. Be mindful of your words on the professional front. Reflect on contracts but take no action today.
CAPRICORN: Tie up the details of projects and presentations you have been working on the past day or so. Reflect on the big picture of what you are trying to say and how you are trying to say it. Explore inspiration today as you reflect on how to get your point across.
AQUARIUS: Keep the focus on contracts, shared finances and collaboration. Today take note of where you are on these fronts. Reflect on what adjustments you would like to make. Organize joint finances and shared resources, but make no big decisions today till after 5:42 PM EDT
PISCES: Get centered and focused around partnerships today. Get clear about balance of finance and labor. Reflect on the details of collaboration. This is a good day to notice where healthy adjustments need to be made. Use you skills to serve your partner and allow them to do the same.